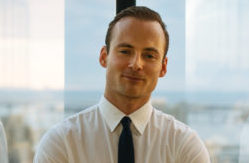 Joseph Collement, JD
Joseph Collement is fluent in English & French and focuses his practice on legal issues associated with capital formation in the areas of blockchain technology and digital currency.
Collement first discovered Bitcoin in 2013 while in law school. Thereafter, he developed a strong interest in the legal issues associated with blockchain technology, in particular, Ethereum's smart contracts. In mid-2017, Joseph founded The Crypto Lawyers™ upon realizing that not a single law firm in the world purported to provide legal service specifically tailored for the needs of individuals, organizations, and businesses working with blockchain technology. The unprecedented crypto bull-run ensued.
Prior to creating the Crypto Lawyers, LLP, Joseph worked as a litigator in a boutique law firm where his practice involved cross-border commercial disputes, business disruption claims, and unfair business practices.
Contact Information
1041 Market Street, San Diego, CA, USA